Send Inquiry
Ductless Laminar Air Flow Systems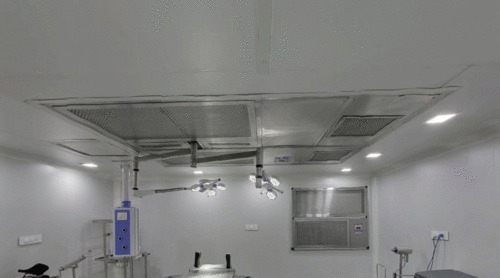 Product Description
The Ductless Laminar Air Flow System concept is readily adoptable to operating room because the system provides a downward movement of clean air (90 4-1- 10) (FPM) through working zone of surgical team. The filtered supply air flow displaces the germs and aerosols released by occupants.
Al-Med Equipment design Vertical Laminar Air Flow fitted with ESP results in a statistically significant reduction in air borne bacteria Colony Forming Unit (CFU). Gasket Material around the panel frame and on frame face provide seal between perforated face and the frame. This leaves no chance of unfiltered air mix up and cross contamination with the clean air. Thus the Laminar Air Flow System Design is flawless in all respect and ultimately it is safe, pure and effective.
The system being ductless can be easily inspected, main-tained and monitored from the OT end.
Aimed Equipment Laminar Air Flow can be put "ON" just 30 to 40 minutes before the start of operation because it is independent of duct. Also it can be "SWITCHED OFF" after the operation is over.
In case of conventional duct system based LAP, AHU blower need to be kept "ON" / "RUNNING" even during non functioning hours i.e. round the clock (may be without temperature control) to avoid fungs and bacterial growth in the Duct.


Features:
| | |
| --- | --- |
| PARTICULARS | DESCRIPTION |
| Unit Size | 2290 mm X 1050 mm 450 mm (Lx W x H) |
| Minipleat HEPA Filter | Size : 915 mm X 610 mm X 75 mm (L x W x D) |
| | Quantity : 2 nos. for each unit |
| | 99.99% efficiency down to 0.3 micron |
| Pre-Filter | Size : 915 mm X 435 mm X 25 mm (Lx W x D) |
| | Quantity : 1 no. for each unit |
| | 90% efficiency down to 5 micron |
| | 3 layer NWP sandwiched between 2 layers of HDPE Net |
| Blower Motor | Rating 1 HP, 1440 RPM Single Phase Running At 220 Volt AC 50/60 Hz |
| | Mounting : Incorporated With Aluminium Impellers Within Powder Coated Mild Steel Housing |
| | Noise Level : Less Than 68 Decibels And Suspended On Spring To Give Minimum Vibration |
| Lighting | Ozone Producing Ultra Violate Germicidal Light Of 3 Feet Length In The Position Of Suction |
| Electrical | Input AC: 220 - 240 Volts Single Phase |
| | All Wires Are Covered By PVC Spiral Bindings To Ensure Better Safety |
| Performance | Dust Count Exceeds Class 100 In Sealed OT. Requirement As Per ISO 14644 |
| Vibration | 0.001 Inches Average On Work Table |
| Special Features | Electrostatic Precipitator |
Other Products in 'Modular OT' category